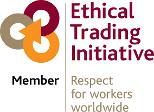 ETI ~ Ethical Trading Initiative
The Ethical Trading Initiative is a groundbreaking alliance of companies, trade unions and voluntary organisations, working in partnership to improve the lives of people across the globe that make or grow consumer goods. Ethical trade means that retailers, brands and their suppliers take responsibility for improving the working conditions of the people who make the products they sell. Supplier companies around the world employ most of these workers; many of them based in poor countries where laws designed to protect workers' rights are inadequate or not enforced. Companies with a commitment to ethical trade adopt a code of labour practice that they expect all their suppliers to work towards. Such codes address issues like wages, hours of work, health and safety and the right to join free trade unions.
Course Objective
The aim of this training is to teach the concept of ethical production and what is driving companies to embrace the concept. The program will also explore how organisations can develop and implement a social system that is sensitive to workers' rights and welfare based on the ETI base code.
Course Outline:
The Ethical production concept
Why the social audits?
ILO conventions and declaration of human rights
Social/Ethical Trade standards
ETI Base Code
Clause by Clause guide on the requirements of the code
The Smeta Audit: developing a deeper understanding of the two and four pillar smeta audits
Sedex: Sharing your social audits, good practices and social progress
Integrating ETI base code in an organisations operation
Course Duration: 2 days

Copyright 2011-2021 Streamlined Systems Ltd, PO Box 50067-00100, Nairobi, KE | +254 722 576 743