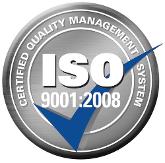 ISO 9001:2008
is a quality management system prepared by the International Organisation for Standardisation (ISO), which is a worldwide federation of national standards bodies.
This standard is based on quality management principles, which have been proved to have immense benefits to those companies and organisations that have effectively implemented it.
Objectives:
The adoption of a quality management system should be a strategic decision by the top management of the Companies. Companies have a purpose:
To identify and meet the needs and expectations of its customers and other interested parties.

To achieve competitive advantage, and to do this in an effective and efficient manner.

To achieve, maintain and improve overall organisational performance and capabilities.
The above can be systematically achieved by applying the quality management principles which the standard is based on.
The application of the quality management principles not only provides direct benefits but also makes an important contribution to managing costs and risks. Some positive impacts and benefits are as follows:
Customer loyalty

Repeat business and referral

Improved operational results e.g. revenue & market share

Flexible and fast response to market opportunities

Alignment of processes which will best achieve results

Understanding and motivation of people towards the organisations goals and objectives, as well as participating in continual improvement

Improved confidence of interested parties in the effectiveness and efficiency of the organisation; as demonstrated by financial and social benefits resulting from the organisations performance and reputation.

Optimisation of costs and resources, as well as flexibility and speed of joint responses to changing markets
Duration: The whole process of Training, Audits and implementation takes a period of 6 months. Streamlined Systems Ltd require a minimum of 10 days to take a company through the required preparations for certification.
Copyright 2011-2021 Streamlined Systems Ltd, PO Box 50067-00100, Nairobi, KE | +254 722 576 743