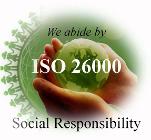 Social Responsibility.
Organisations are becoming increasingly aware of the environment in which they operate. As good corporate citizens, they not only want to operate within the framework of existing laws, but to contribute to the societal and community development issues, such as influencing the sustainable use of environmental resources, and promoting social equity and justice. This extensive programme assists organisations to develop, integrate and implement a Social Responsibility system in their work place.
Course Outline:
An introduction to social responsibility
What is social responsibility and what does it entail?
Managing the 3Ps – Key to sustainable development and organisational growth
Working within the frame work provided by the legislation and industry standards
ISO 26000 – The guiding pillar of Social Responsibility activities in an Organisation
Understanding the 7 principles of ISO 26000
Understanding the core issue in SR as expounded in ISO 26000
Identifying and working with the stakeholders
Adopting, implementing and integrating a social responsibility approach in an organisation
Course Duration:
3 days.
Copyright 2011-2021 Streamlined Systems Ltd, PO Box 50067-00100, Nairobi, KE | +254 722 576 743